Ace Graphics are Going Green - with Carbon Capture
Woodland Carbon is an accredited, award-winning carbon removal scheme that is operated under the Government's 2011 Woodland Carbon Code. Our customers and their clients benefit by the opportunity to capture the CO2 emissions from our paper purchases by planting native woodland, right here in the UK, through the Woodland Trust and the Woodland Carbon scheme.
How it Works
When we place a paper order, the amount of CO2 generated in the production and delivery of the paper is calculated, this amount is added as a separate invoice and is paid immediately after delivery of the order.

We receive a quarterly certificate showing the area of native woodland created and our own Ace Graphics branded Woodland Carbon logo can be used on all printed material to demonstrate our commitment to using reduced CO2 paper. Using the Woodland Carbon logo enhances your brand and reinforces your environmental message.

All Carbon Capture charges are paid directly to the Woodland Trust who plant woodland at one of their accredited woodland creation sites in the UK.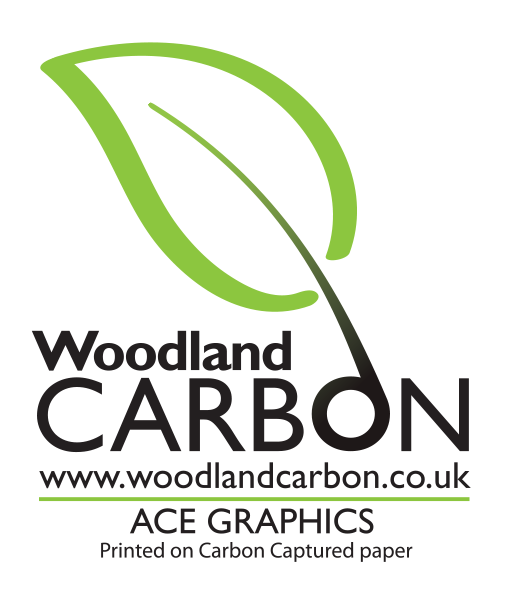 Amazing quality and quick service. We have been using Ace Graphics for over 20 years for all our price lists & business cards. I personally used them for my save the date wedding invites last year and they were fabulous. I would highly recommend them.
We've used Ace Graphics for an assortment of leaflets, posters and boards over some years now, and they couldn't make it simpler. Unflappable, efficient, affordable and friendly, I can't recommend Ace Graphics highly enough!
I've used Ace Graphics for several years and have been consistently impressed with the quality of their printing. It was a marked improvement on our previous printers and we often receive comments about the high quality of our publicity. They are also extremely flexible and have saved my bacon on numerous occasions when I've sent them last minute jobs! Their communication is excellent and they have called me on several occasions to remind me that my printing is ready for collection. I can't recommend them highly enough.
Ace Graphics are always easily obtainable, they have a wealth of knowledge and experience to draw on so we get a great professional product delivered to us on every order and constantly supplied on time.
I met the team from Ace Graphics before I even started my company as a freelancer. I sent over a leaflet I designed and received a call straight back from Bill Holyland, he spotted a typo! I will never forget that call and the polite way he spoke to me. Fast forward nearly 20 years later and Ace are still my trusted printers. We've now worked on some huge projects together, which I know will get the care and attention they need.